1

Upload Photo

2

Confirm Design

3

Customization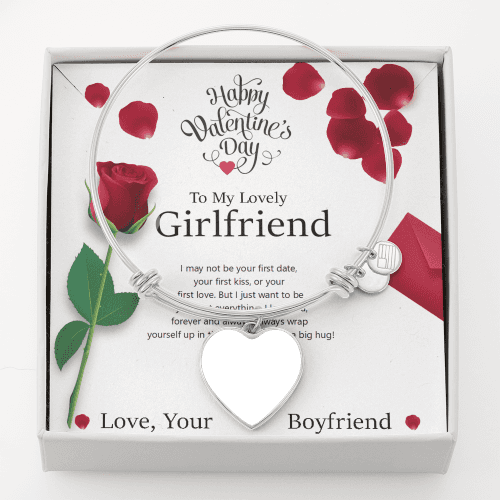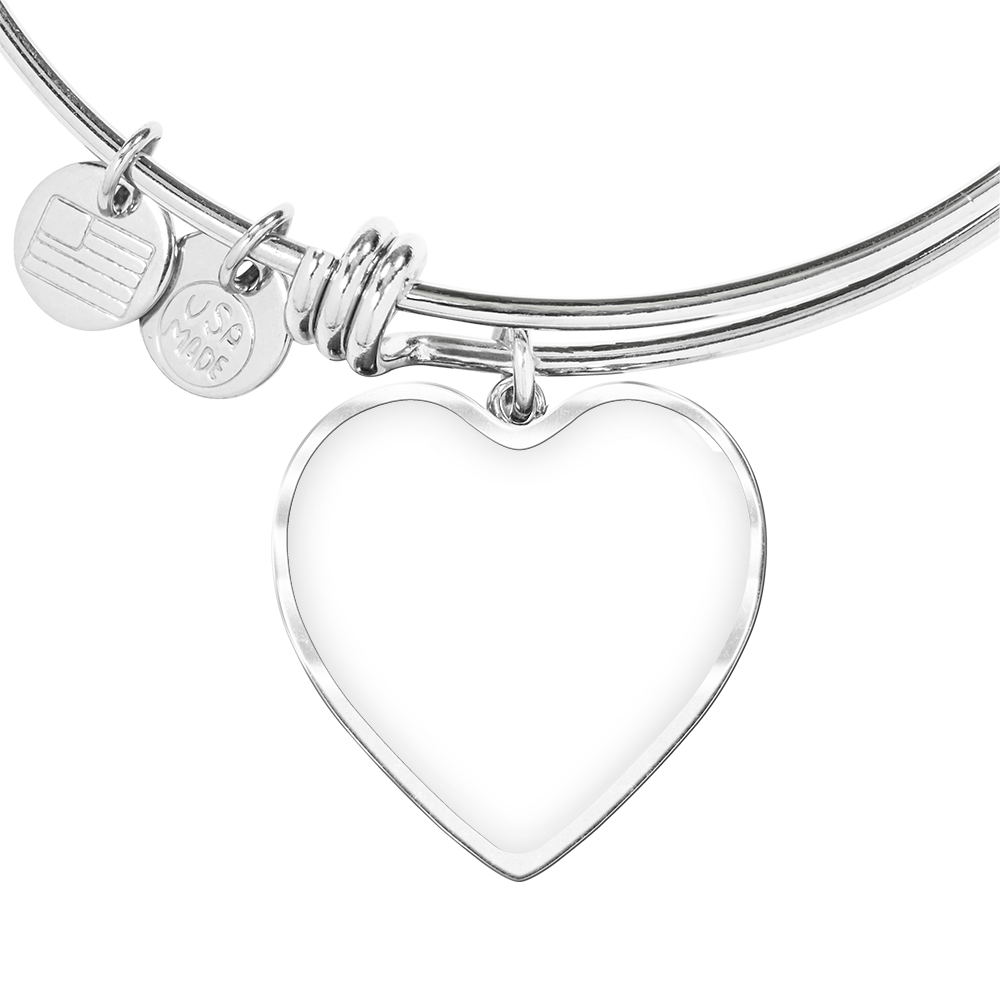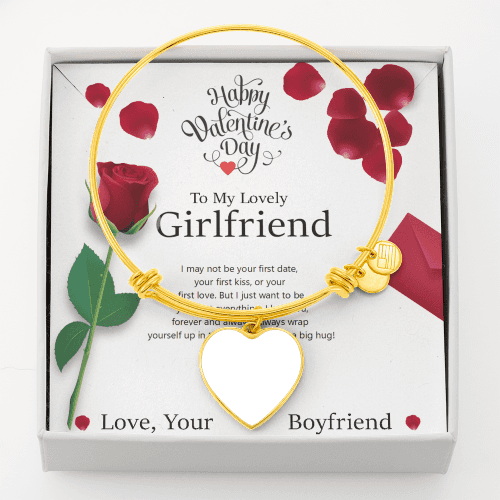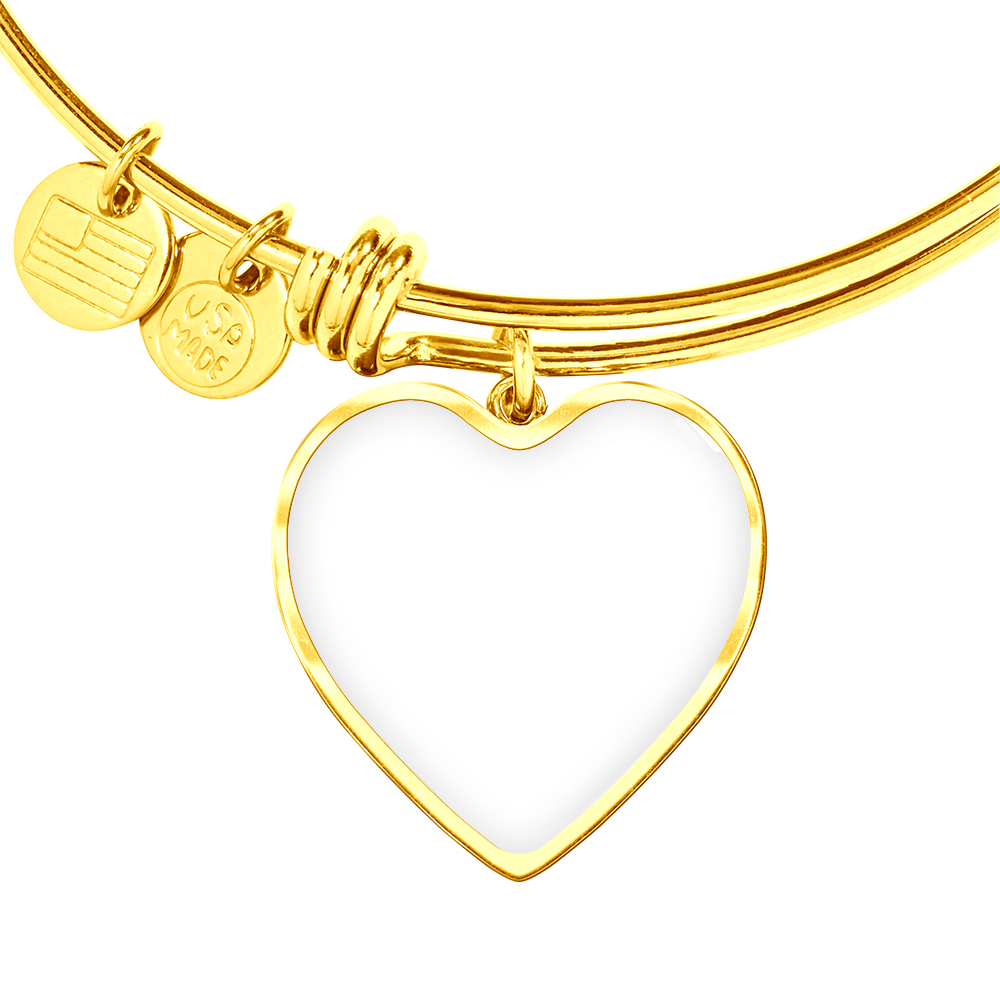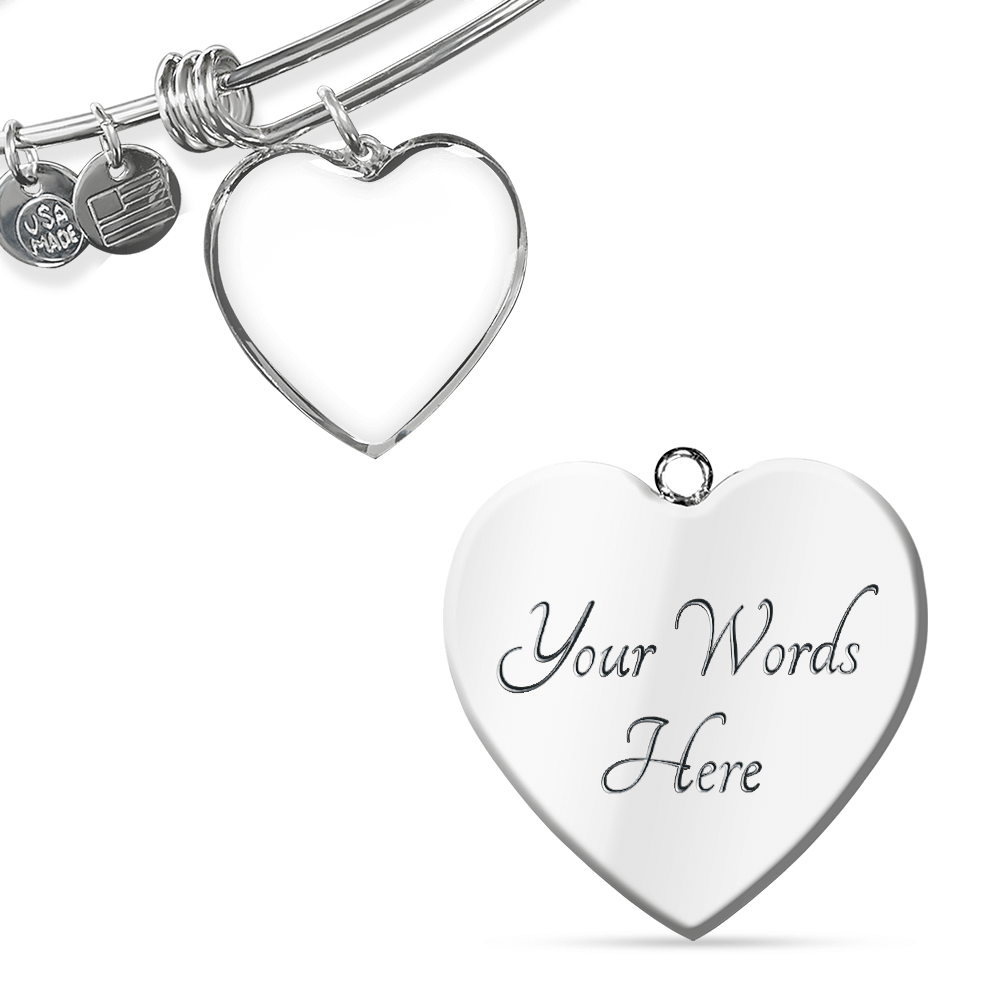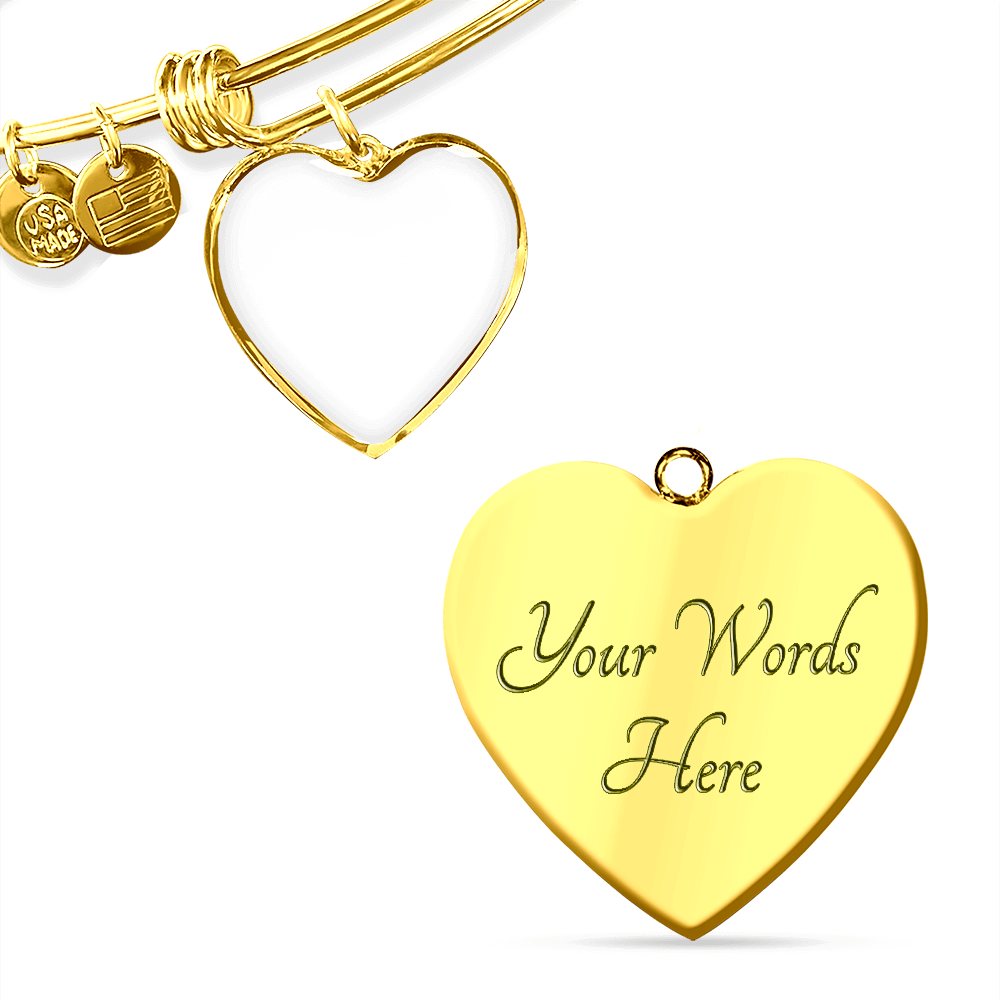 Unique, one-of-a-kind gift

NOT SOLD in stores

USA: 2-8 Business Days
Custom Photo Upload Bangle Bracelet, To My Girlfriend Valentines Day
We Believe in Being Responsible ~ Ethical ~ Eco-Friendly
(Click to read more)
Create a memorable moment with your loved one!
Do you know what best way to express your love on Valentine's Day, say it with a custom message card and an endearing personalized photo moment.
Happy Valentines Day
To My Lovely Girlfriend
I may not be your first date, Your first kiss, or your first love. 
But I just want to be your last everything. I love you, forever and always. 
Always wrap yourself up in this and consider it a big hug!
Love, Your Boyfriend
Custom Photo Upload Bangle Bracelet, To My Girlfriend Valentines Day
BUY TODAY & GET 10% OFF! DISCOUNT CODE: 10OFF  
A personalized photo on a HEART PENDANT is the best way. Surprise them with this beautiful set of HEART PERSONALIZED PHOTO PENDANT AND BRACELET and our exclusive Custom Message Card!
Express your love forever with this romantic personalized Heart Pendant Necklace & Bracelet Set. You are sure to leave her with a heart filled with love.
Family photos, pets, parents, kids, or special moments 
The Photo Heart Pendant represents an unbreakable bond between two souls.
This symbol of eternal love is a forever favourite.
Surprise your loved one with this gorgeous gift today!
We live in the digital age, where sending an email or text can sometimes feel impersonal. But nothing speaks louder than a custom message card, made especially for your special person.
The littlest gestures with the biggest thoughts and cares go a long way to your friend's heart, this custom message card and necklace certainly get the message across. 
We Provide Easy Secure Payment Options for Your Purchasing Needs
✅ Several secure full payment providers
✅ 
4 interest-free installments with our secure service   
This one-of-a-kind Necklace and Pendant is an exclusive designer-made piece!
This Jewelry item is the perfect keepsake, making it personal and truly one of a kind with the exclusive message card
We provide a 100% Satisfaction Guarantee with these fantastic pieces. 
❤️ Gifting Ideas:
~ Valentines Day, one-of-a-kind gift
~ No other way to say, will always be there
~ No other way to say I LOVE YOU, my Valentine
~ A gorgeous and unique, long-lasting keepsake 
~ A special gift for that extraordinary person   
~ PHOTO BRACELET ~
This is a One-of-a-kind design and gift.
Her heart will fill with joy with this beautiful HEART PERSONALIZED PHOTO PENDANT AND BRACELET and our exclusive Custom Message Card!
The beautiful Heart Pendant and Bangle bracelet are crafted with high-quality surgical steel and shatterproof liquid glass. An 18k yellow gold finish over stainless steel attaches to an adjustable bangle-style bracelet.
You must see it for yourself!
Don't wait, get yours today!  
This necklace is one of our best sellers!    
They will proudly wear this customized jewelry everywhere. 
❤️ How to order:
A: Select:  Your (optional) but highly recommended care items
(CARE ITEMS add fantastic value to your gift)
B: Select your favourite photo for upload
C: Follow the buttons and prompts
D: Double-check your photo and confirm
E: Select the engraving option
Add to Cart
F: Proceed to Checkout 
***Please, we enjoy sharing your feedback with our team, as it lifts their spirits to do even more great work.   
❤️ Product Features:
✅ Personalized and Shipped from the U.S.A.
✅ 18K Gold Finish Option
✅ High-Quality Surgical Steel
✅ Shatterproof liquid glass coating
✅ Luxury Bangle: 7-9" (18-22.75mm)
✅ Heart Pendant: 24mm x 24mm
✅ Patent-Pending Jewelry Design
✅ 60-Day Money-back Guarantee 
Each personalized piece offers exceptional craftsmanship. 
~ CARE INSTRUCTIONS ~
To keep your lovely jewelry in perfect condition, we always advise keeping items out of contact with any chemicals, or strong perfumes.
Use a gentle jewelry cloth, eyeglass cloth, or the Polishing Cloth line that works great.
~ PRODUCTION TIMES ~
Every single item we sell is handcrafted to order with care.
Please check individual items and our policies page for the most recent product updates.
These are not mass-produced designs and are rendered perfectly for each celebration or occasion. 
~ SHIPPING ~
We offer the best worldwide shipping.
Please note that shipping time does not have production times. 
Please see our shop policies for complete details. So, please be aware the production time takes a couple of days, then we will try to ship expedited for you.
Once it is shipped, this is the piece we can't control, but tracking is provided, and the best delivery companies.  
~ CANCELLATION POLICY ~ 
If you're not 100% satisfied with your purchase for any reason, don't hesitate to get in touch with us, and we will make it right.
Hurry! We Sell Out Frequently
Unique, one-of-a-kind gift

NOT SOLD in stores

USA: 2-8 Business Days
See what people are saying
about us
Description

Surprise someone you love with this unique and elegant jewelry item 🎁.

We say "UNIQUE" because each piece is different when you provide your photo.

This hand-crafted piece will never fade and is built to last!

Specifics

Made in Florida and Amsterdam
316 Steel or 18k Gold Finish
Adjustable Necklace Chain Measures 18"-22"
Water-Resistant

Delivery

Each piece is 100% custom hand-made to order in only 3-5 business days!

Custom Photo Upload Bangle Bracelet, To My Girlfriend Valentines Day

We Believe in Being Responsible ~ Ethical ~ Eco-Friendly
(Click to read more)

Create a memorable moment with your loved one!

Do you know what best way to express your love on Valentine's Day, say it with a custom message card and an endearing personalized photo moment.

Happy Valentines Day

To My Lovely Girlfriend

I may not be your first date, Your first kiss, or your first love. 
But I just want to be your last everything. I love you, forever and always. 
Always wrap yourself up in this and consider it a big hug!

Love, Your Boyfriend

Custom Photo Upload Bangle Bracelet, To My Girlfriend Valentines Day

BUY TODAY & GET 10% OFF! DISCOUNT CODE: 10OFF  

A personalized photo on a HEART PENDANT is the best way. Surprise them with this beautiful set of HEART PERSONALIZED PHOTO PENDANT AND BRACELET and our exclusive Custom Message Card!

Express your love forever with this romantic personalized Heart Pendant Necklace & Bracelet Set. You are sure to leave her with a heart filled with love.

Family photos, pets, parents, kids, or special moments 
The Photo Heart Pendant represents an unbreakable bond between two souls.
This symbol of eternal love is a forever favourite.
Surprise your loved one with this gorgeous gift today!

We live in the digital age, where sending an email or text can sometimes feel impersonal. But nothing speaks louder than a custom message card, made especially for your special person.

The littlest gestures with the biggest thoughts and cares go a long way to your friend's heart, this custom message card and necklace certainly get the message across. 

We Provide Easy Secure Payment Options for Your Purchasing Needs
✅ Several secure full payment providers
✅ 4 interest-free installments with our secure service   

This one-of-a-kind Necklace and Pendant is an exclusive designer-made piece!

This Jewelry item is the perfect keepsake, making it personal and truly one of a kind with the exclusive message card

We provide a 100% Satisfaction Guarantee with these fantastic pieces. 

❤️ Gifting Ideas:

~ Valentines Day, one-of-a-kind gift
~ No other way to say, will always be there
~ No other way to say I LOVE YOU, my Valentine
~ A gorgeous and unique, long-lasting keepsake 
~ A special gift for that extraordinary person   

~ PHOTO BRACELET ~

This is a One-of-a-kind design and gift.

Her heart will fill with joy with this beautiful HEART PERSONALIZED PHOTO PENDANT AND BRACELET and our exclusive Custom Message Card!

The beautiful Heart Pendant and Bangle bracelet are crafted with high-quality surgical steel and shatterproof liquid glass. An 18k yellow gold finish over stainless steel attaches to an adjustable bangle-style bracelet.

You must see it for yourself!

Don't wait, get yours today!  

This necklace is one of our best sellers!    

They will proudly wear this customized jewelry everywhere. 

❤️ How to order:
A: Select:  Your (optional) but highly recommended care items
(CARE ITEMS add fantastic value to your gift)

B: Select your favourite photo for upload

C: Follow the buttons and prompts

D: Double-check your photo and confirm

E: Select the engraving option

Add to Cart
F: Proceed to Checkout 

***Please, we enjoy sharing your feedback with our team, as it lifts their spirits to do even more great work.   

❤️ Product Features:

✅ Personalized and Shipped from the U.S.A.

✅ 18K Gold Finish Option

✅ High-Quality Surgical Steel

✅ Shatterproof liquid glass coating

✅ Luxury Bangle: 7-9" (18-22.75mm)

✅ Heart Pendant: 24mm x 24mm

✅ Patent-Pending Jewelry Design

✅ 60-Day Money-back Guarantee 

 

Each personalized piece offers exceptional craftsmanship. 

~ CARE INSTRUCTIONS ~

To keep your lovely jewelry in perfect condition, we always advise keeping items out of contact with any chemicals, or strong perfumes.
Use a gentle jewelry cloth, eyeglass cloth, or the Polishing Cloth line that works great.

~ PRODUCTION TIMES ~

Every single item we sell is handcrafted to order with care.
Please check individual items and our policies page for the most recent product updates.
These are not mass-produced designs and are rendered perfectly for each celebration or occasion. 

~ SHIPPING ~

We offer the best worldwide shipping.
Please note that shipping time does not have production times. 
Please see our shop policies for complete details. So, please be aware the production time takes a couple of days, then we will try to ship expedited for you.
Once it is shipped, this is the piece we can't control, but tracking is provided, and the best delivery companies.  

~ CANCELLATION POLICY ~ 

If you're not 100% satisfied with your purchase for any reason, don't hesitate to get in touch with us, and we will make it right.

Each item is handcrafted and assembled with love just for you and your loved one. Due to this, please allow 2 - 5 business days for your order to ship.

Once shipped, you can expect delivery within:

USA: 2 - 5 Business Days w/ Standard (1 - 3 Business Days w/ Expedited)

Canada: 5 - 10 Business Days

UK & EU: 3 - 7 Business Days

Australia & New Zealand: 8 - 20 Business Days

Rest of the World: 5 - 10 Business Days