1

Upload Photo

2

Confirm Design

3

Customization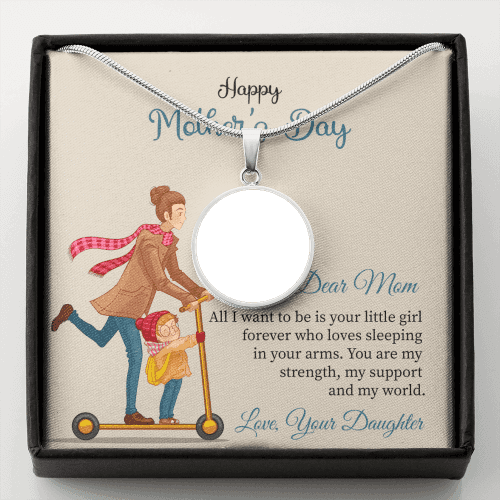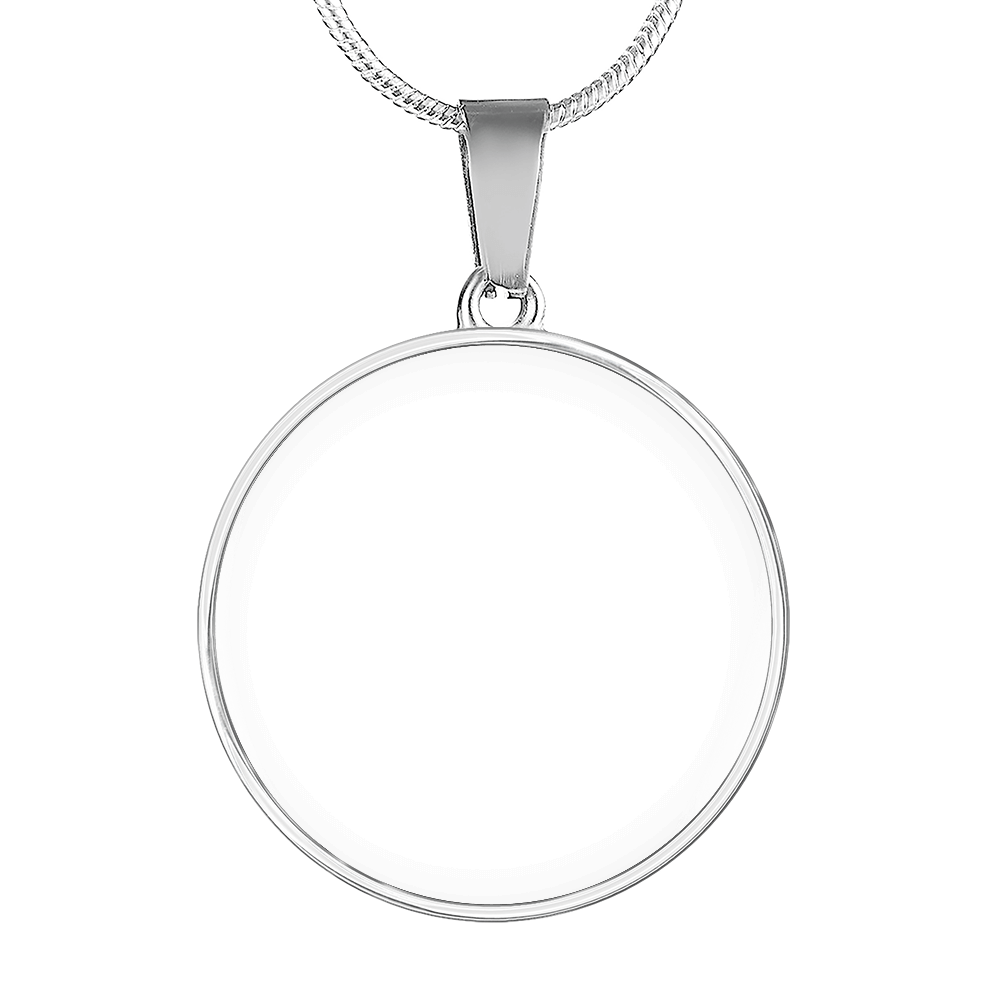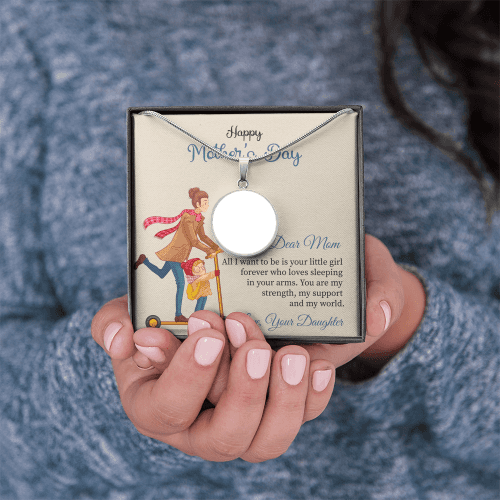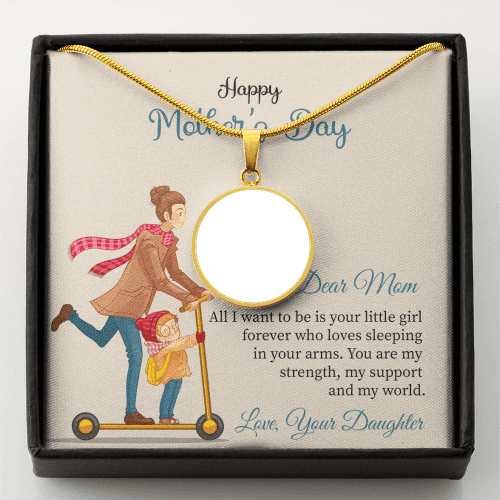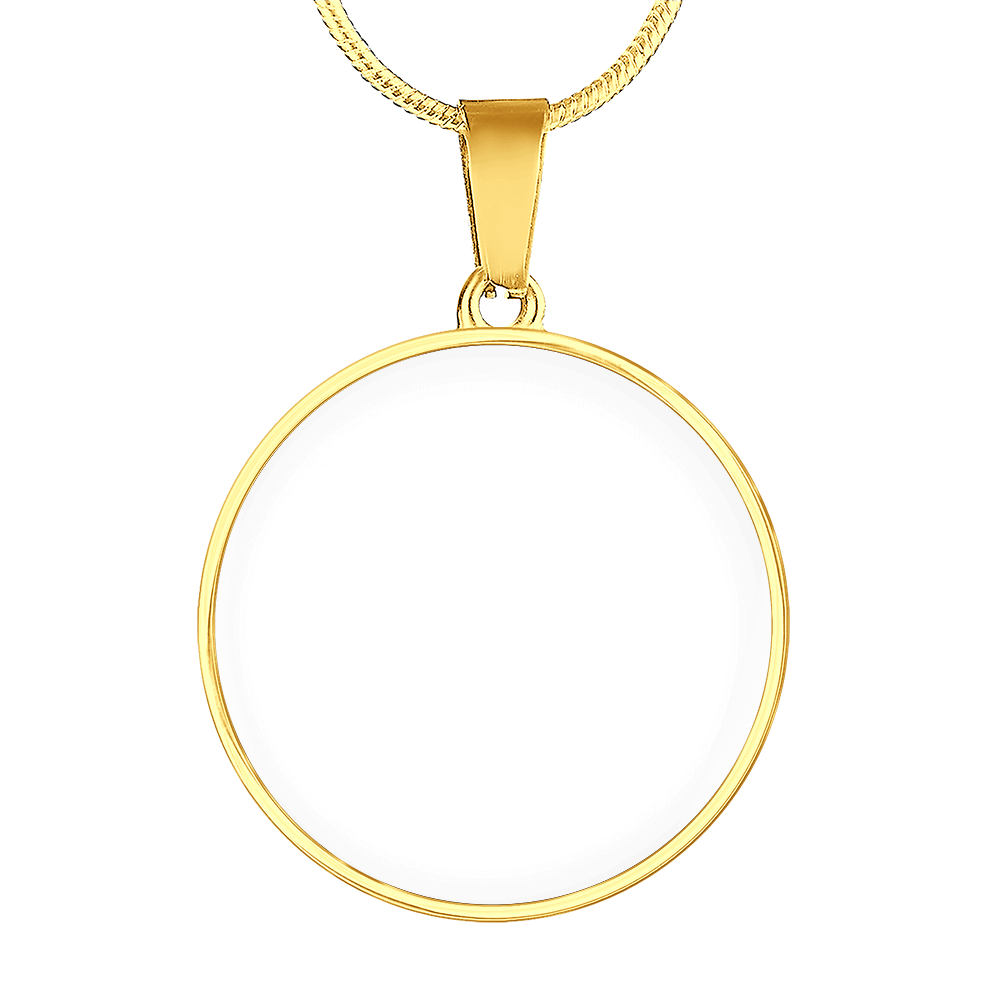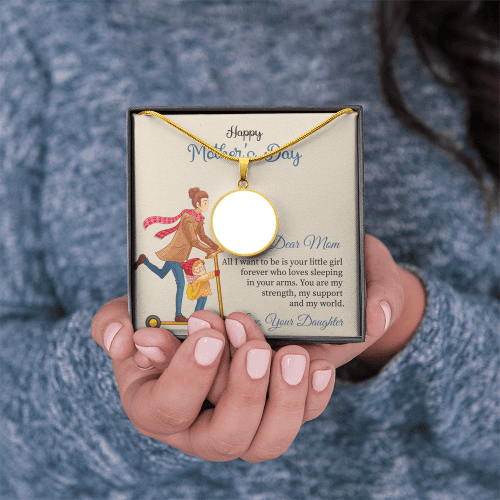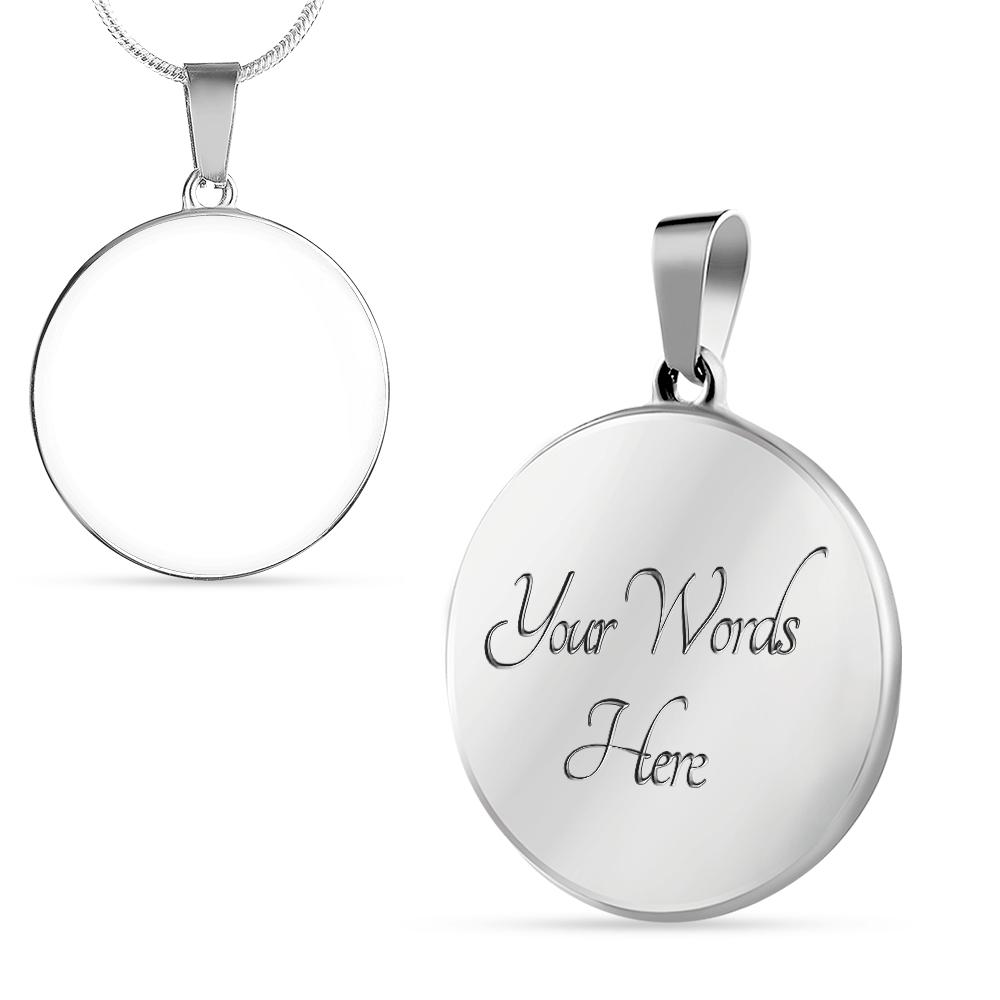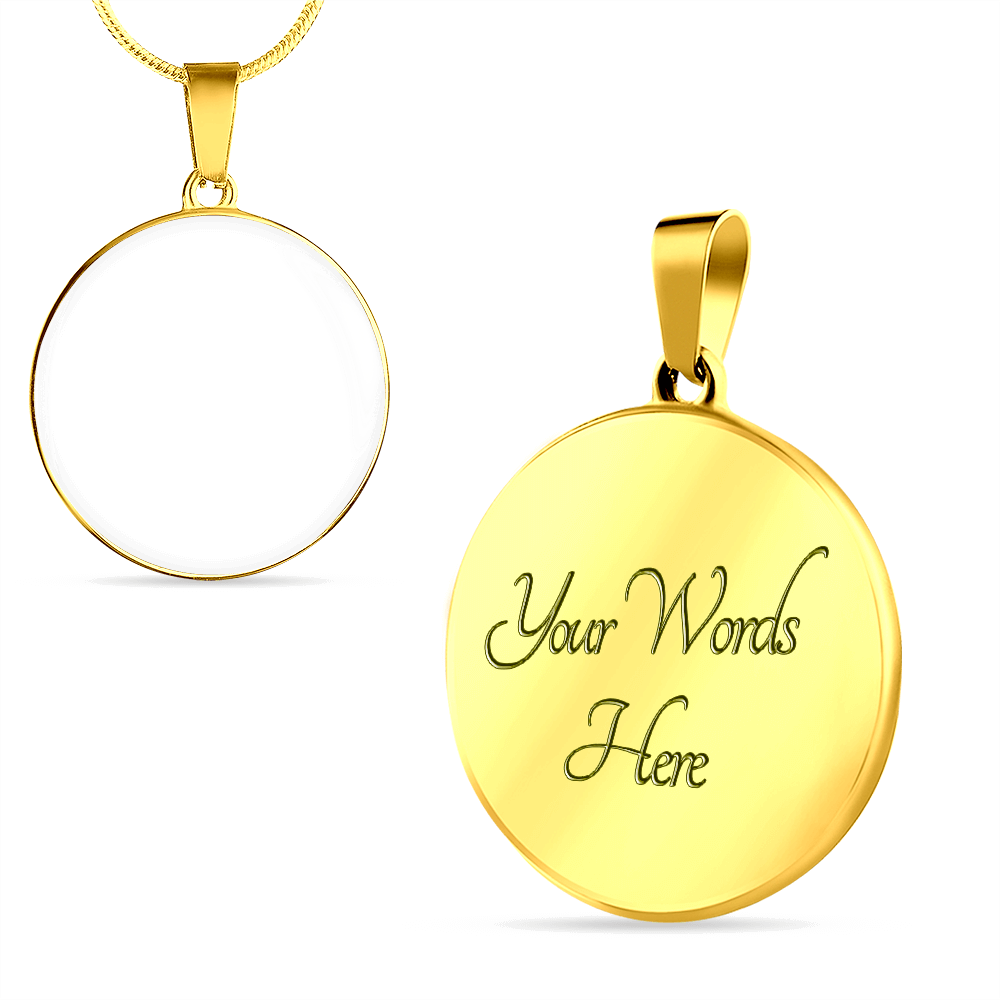 Unique, one-of-a-kind gift

NOT SOLD in stores

USA: 2-8 Business Days
We Believe in Being 
Responsible ~ Ethical ~ Eco-Friendly

Mother's Day, Daughter to Mother Photo Upload and Engraved
Imagine the joy on your mom's face when she sees this gorgeous necklace!

This pendant is magical with a special EASY LOAD personalized photo and optional engraving to make the moment last forever.
It brings exquisite style and fashion to either your casual look or an evening out in your best attire
BUY TODAY & GET 10% OFF! DISCOUNT CODE: 10OFF
Mothers should be celebrated every day. Let's take a moment with something everlasting and from the heart.
Imagine the smile on your mom's face when she sees this gorgeous, personalized PHOTO and ENGRAVED necklace, PLUS a customized message card built right into the gift!
Happy Mother's Day
All I want to be is your little girl
forever who loves sleeping in your arms.
You are my strength, my support, and my world
Love, Your Daughter
She loves jewelry that is made from the heart and beautiful as well, we guarantee it will exceed your highest expectations!

We Provide Easy Secure Payment Options for Your Purchasing Needs
✅ Several secure full payment providers
✅ 
4 interest-free installments with our secure service

❤️ Gifting Ideas:
~ One-of-a-kind jewelry and message card!
~ A thoughtful, exclusive Mother's Day gift!
~ A thoughtful, exclusive Mother's Day/ Birthday COMBO gift!
~ PHOTO ENGRAVED NECKLACE ~

Shimmering and beautiful flawless one-of-a-kind designs.
Celebrate your everlasting love and express your affection with a look that says, "I appreciate you and love you for all that you do."
This necklace and pendant are hand-polished to show off the magnificent shine.
It is a perfect gift for someone special, make sure to get yours today!

❤️ How to order:

Choose Surgical Steel or 18k Yellow Gold
UPLOAD Your Personal photo of choice
Review photo for quality and fit
Choose Engraving follow directions
Add to Cart
Proceed to Checkout
**Please we really enjoy sharing your feedback with our team, as it lifts their spirits to do even more great work.
 
❤️ Product Features:
✅ Handmade and Shipped from the USA
✅ High-quality surgical steel or 18k yellow gold finish
✅ Adjustable Snake chain 16" - 22"
✅ Coated with shatterproof liquid glass
✅ Pendant size: (23.5mm x 23.5mm)
✅ Lobster clasp attachment
✅ 60-Day Money-back Guarantee

Each personalized piece offers exceptional craftsmanship.
~INSIDE STORE~
Check our store for many beautiful pieces. 
https://kubby-coworldwide.com  💕

Hurry! We Sell Out Frequently
Unique, one-of-a-kind gift

NOT SOLD in stores

USA: 2-8 Business Days
See what people are saying
about us
Description

Surprise someone you love with this unique and elegant jewelry item 🎁.

We say "UNIQUE" because each piece is different when you provide your photo.

This hand-crafted piece will never fade and is built to last!

Specifics

Made in Florida and Amsterdam
316 Steel or 18k Gold Finish
Adjustable Necklace Chain Measures 18"-22"
Water-Resistant

Delivery

Each piece is 100% custom hand-made to order in only 3-5 business days!

We Believe in Being 
Responsible ~ Ethical ~ Eco-Friendly


Mother's Day, Daughter to Mother Photo Upload and Engraved
Imagine the joy on your mom's face when she sees this gorgeous necklace!

This pendant is magical with a special EASY LOAD personalized photo and optional engraving to make the moment last forever.

It brings exquisite style and fashion to either your casual look or an evening out in your best attire

BUY TODAY & GET 10% OFF! DISCOUNT CODE: 10OFF

Mothers should be celebrated every day. Let's take a moment with something everlasting and from the heart.

Imagine the smile on your mom's face when she sees this gorgeous, personalized PHOTO and ENGRAVED necklace, PLUS a customized message card built right into the gift!

Happy Mother's Day

All I want to be is your little girl
forever who loves sleeping in your arms.
You are my strength, my support, and my world

Love, Your Daughter

She loves jewelry that is made from the heart and beautiful as well, we guarantee it will exceed your highest expectations!

We Provide Easy Secure Payment Options for Your Purchasing Needs
✅ Several secure full payment providers
✅ 4 interest-free installments with our secure service

❤️ Gifting Ideas:
~ One-of-a-kind jewelry and message card!
~ A thoughtful, exclusive Mother's Day gift!
~ A thoughtful, exclusive Mother's Day/ Birthday COMBO gift!

~ PHOTO ENGRAVED NECKLACE ~


Shimmering and beautiful flawless one-of-a-kind designs.
Celebrate your everlasting love and express your affection with a look that says, "I appreciate you and love you for all that you do."
This necklace and pendant are hand-polished to show off the magnificent shine.
It is a perfect gift for someone special, make sure to get yours today!

❤️ How to order:


Choose Surgical Steel or 18k Yellow Gold
UPLOAD Your Personal photo of choice
Review photo for quality and fit
Choose Engraving follow directions
Add to Cart
Proceed to Checkout

**Please we really enjoy sharing your feedback with our team, as it lifts their spirits to do even more great work.
 
❤️ Product Features:
✅ Handmade and Shipped from the USA
✅ High-quality surgical steel or 18k yellow gold finish
✅ Adjustable Snake chain 16" - 22"
✅ Coated with shatterproof liquid glass
✅ Pendant size: (23.5mm x 23.5mm)
✅ Lobster clasp attachment
✅ 60-Day Money-back Guarantee

Each personalized piece offers exceptional craftsmanship.

~INSIDE STORE~
Check our store for many beautiful pieces. 
https://kubby-coworldwide.com  💕


Each item is handcrafted and assembled with love just for you and your loved one. Due to this, please allow 2 - 5 business days for your order to ship.

Once shipped, you can expect delivery within:

USA: 2 - 5 Business Days w/ Standard (1 - 3 Business Days w/ Expedited)

Canada: 5 - 10 Business Days

UK & EU: 3 - 7 Business Days

Australia & New Zealand: 8 - 20 Business Days

Rest of the World: 5 - 10 Business Days