1

Upload Photo

2

Confirm Design

3

Customization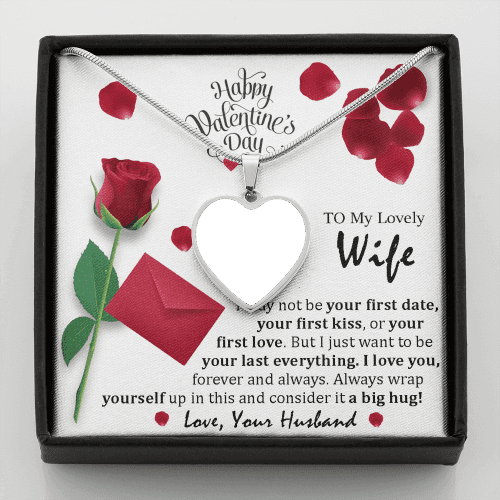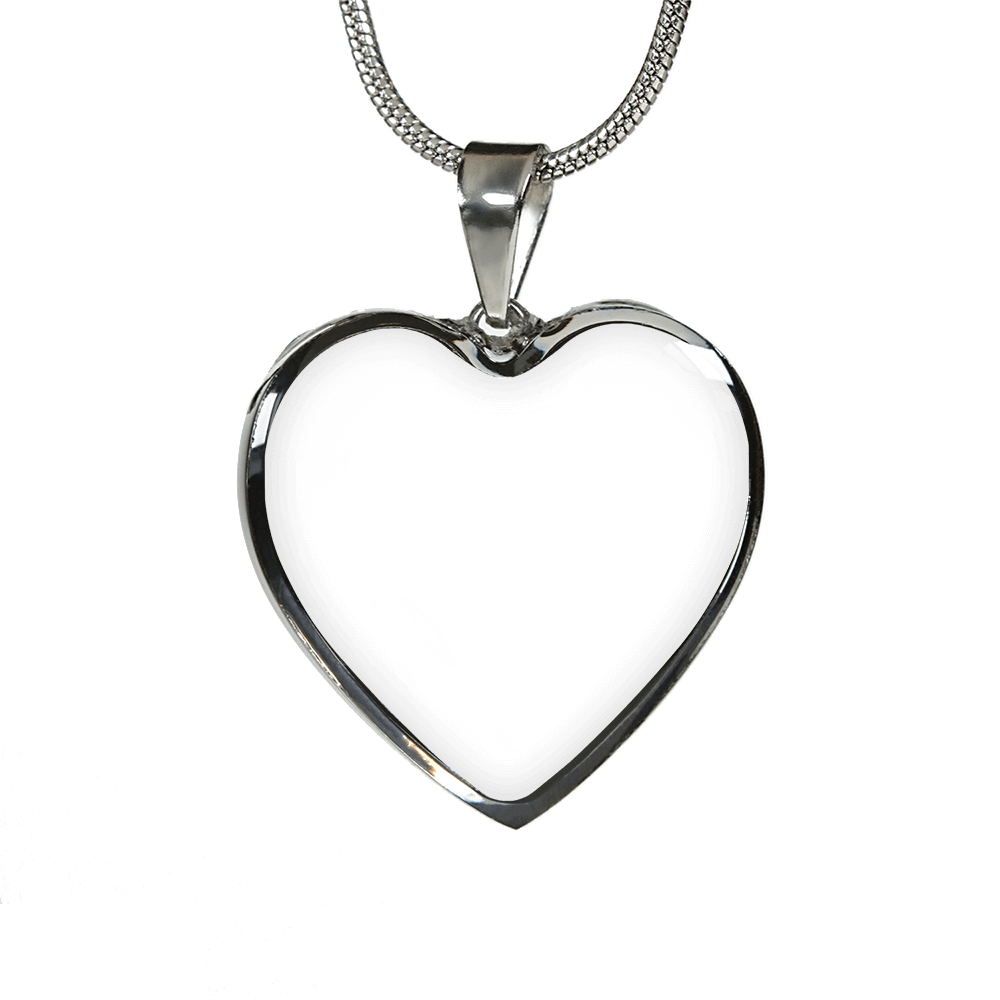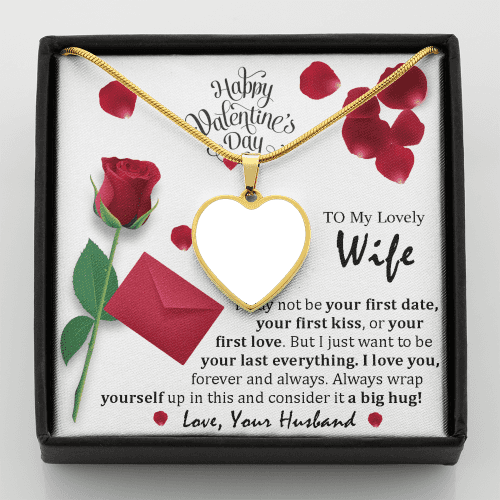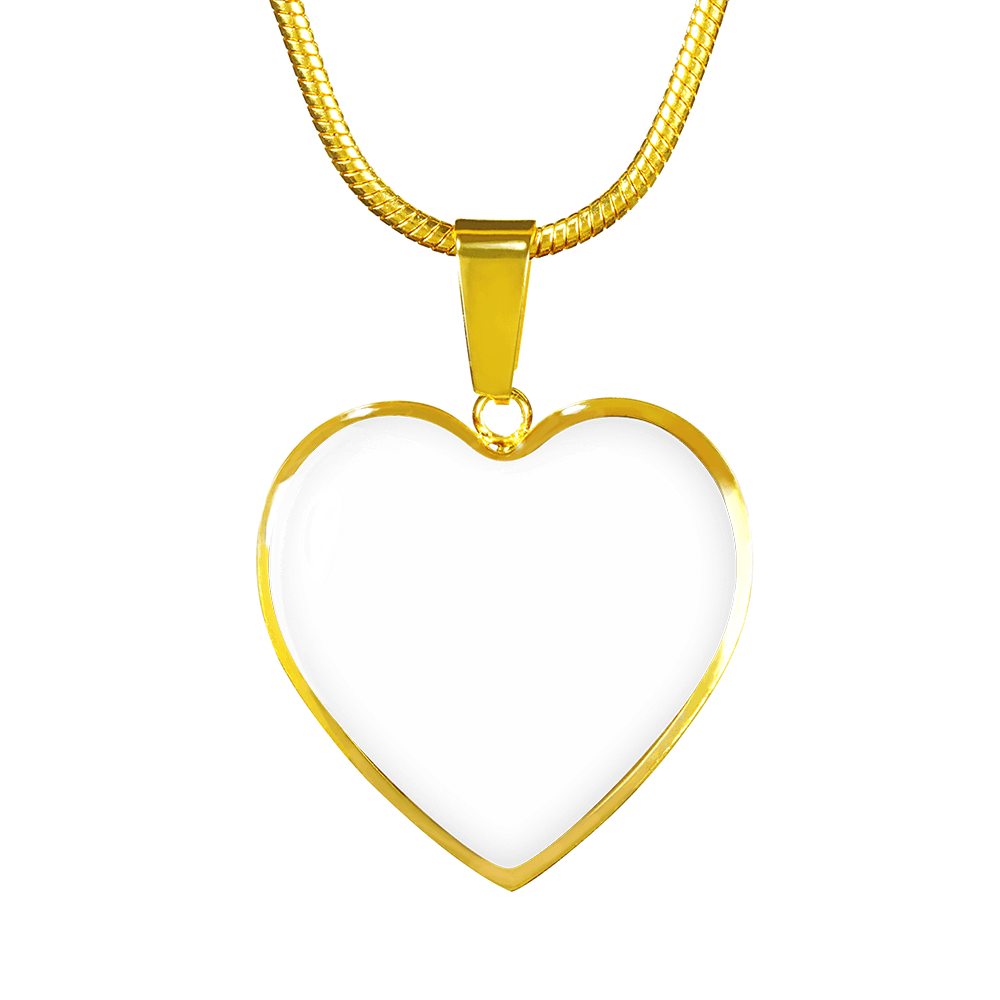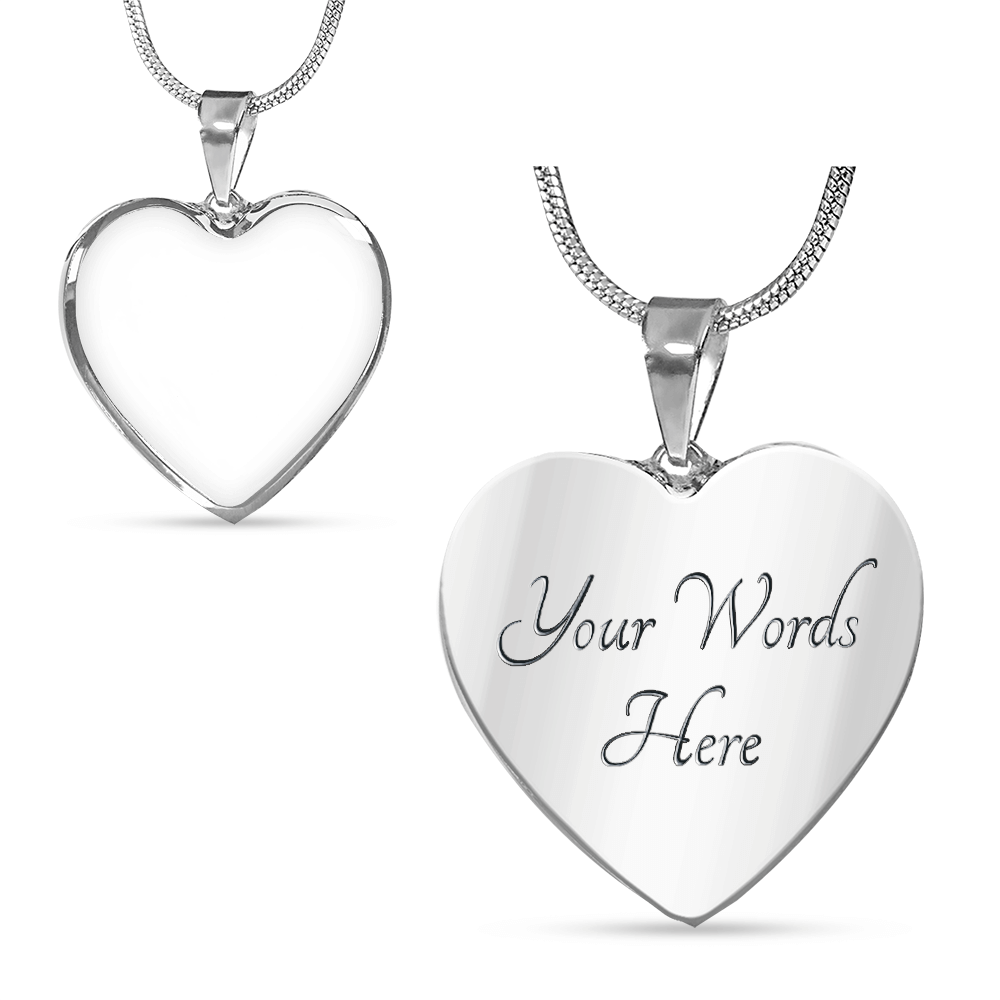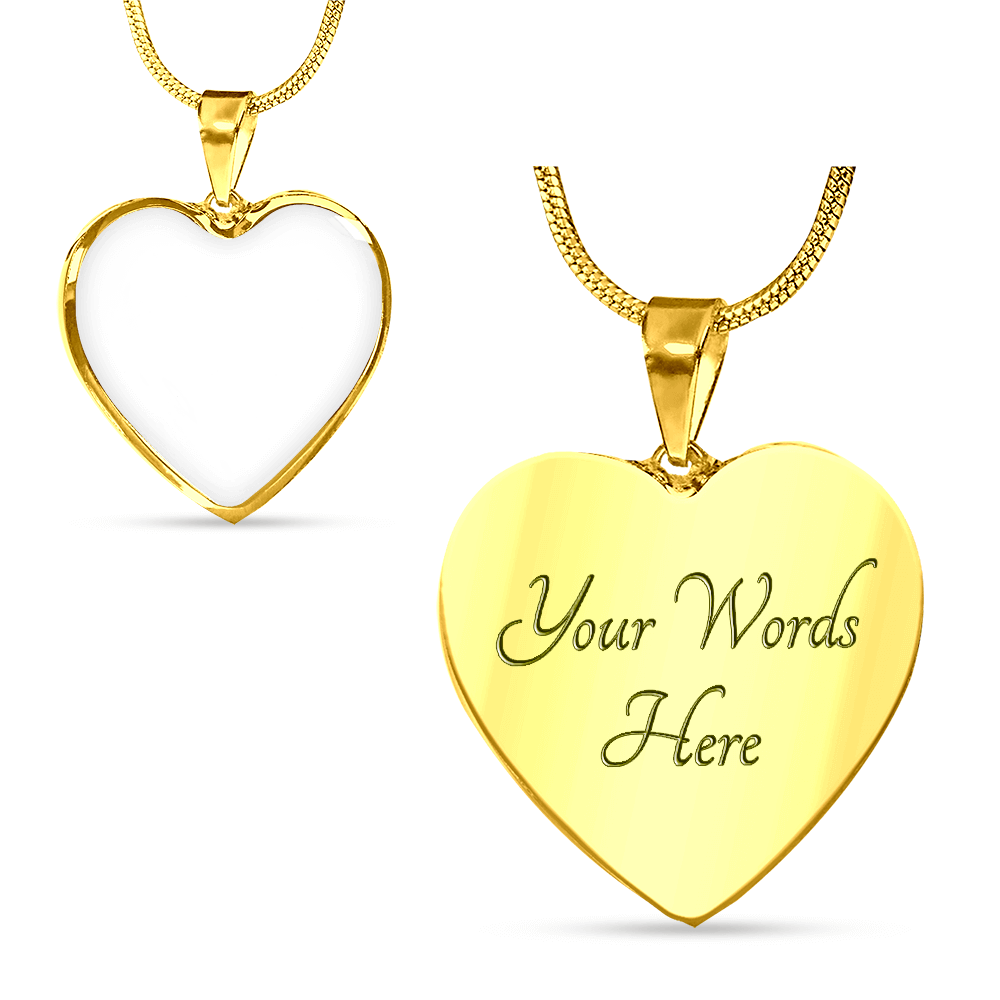 Unique, one-of-a-kind gift

NOT SOLD in stores

USA: 2-8 Business Days
We Believe In Being 
Responsible ~ Ethical ~ Eco - Friendly
Surgical Steel, Photo Upload Heart Necklace, Valentines to Wife
The Heart Photo and Engraving Necklace is a beautiful gift for your loved one! 
BUY TODAY & GET 10% OFF! DISCOUNT CODE: 10OFF  
Melt her heart with this gorgeous Heart Photo and Engraving Necklace and this beautiful Custom Message Card!
Imagine the look of delight on your loved one's face when she sees this artistic Heart Necklace!
The Custom Message Card speaks straight to the heart.
Symbolize your bond to be worn close to the heart, presented with a custom card to express deep caring feelings of love and support.
Happy Valentines Day! 
To My Lovely Wife 
I may not be your first date, Your first kiss, or your first love. 
But I just want to be your last everything.
I love you, forever and always. 
Always wrap yourself up in this and consider it a big hug!

Love, Your Husband 
This necklace is a perfect gift addition that will fit any look or style.
We Provide Easy Secure Payment Options for Your Purchasing Needs
✅ Several secure full payment providers
✅ 
4 interest-free installments with our secure service   
This one-of-a-kind Necklace and Pendant and personalized message card is an exclusive designer-made piece!
We provide a 100% Satisfaction Guarantee with these fantastic pieces. 
❤️ Gifting Ideas:
~ Valentines Day, one of a kind gift
~ No other way to say, will always be there
~ No other way to say I LOVE YOU, my Valentine
~ A gorgeous and unique, long-lasting keepsake 
~ A special gift for that extraordinary person
~ PENDANT NECKLACE ~
Melt her heart with this Heart necklace gift! 
The Heart Photo and Engraving Necklaces represent an unbreakable bond between two souls.
This beautifully styled heart pendant is crafted from surgical steel and finished with your beautiful photo upload and engraving option on the back.
Add the perfect photo of your loved ones, friends, or even pets - to create a truly unique piece of jewelry!
If the custom engraving option is available, engrave onto the back of the pendant your loved one's name, a special date, or anything else you want to remember and keep you close to their heart.
The heart pendant is 24mm x 24mm
Luxury necklace 18" to 22" in length 45-56cm) adjustable
This necklace is one of our best sellers!   
~CARE ITEMS~
✅ Gift Wrap Kit
✅ Polishing Cloth
✅ Love Knot Earrings
✅ Package Protection (Guarantee No Loss Shipping)
✅ 2 Year Protection Plan    
❤️ How to order:
A: Select:  Your (optional) but highly recommended care items
(CARE ITEMS add fantastic value to your gift)
B: Add to Cart
C: Proceed to Checkout
***Please, we enjoy sharing your feedback with our team, as it lifts their spirits to do even more great work.  
❤️ Product Features:
✅ Personalized and Shipped from the U.S.A.
✅ Heart pendant is 24mm x 24mm
✅ Luxury necklace 18" to 22" in length (45-56cm) adjustable
✅ .316 surgical steel
✅ Shatterproof liquid glass coating
✅ Upgrade to our 18k yellow gold finish option
✅ Durable custom lobster clasp
✅ Patent-Pending Jewelry Design
✅ 60-Day Money-back Guarantee 
Each personalized piece offers exceptional craftsmanship. 
~INSIDE STORE ~
https://kubby-co-worldwide.com   💕  
~ CARE INSTRUCTIONS ~
To keep your lovely jewelry in perfect condition, we always advise keeping items out of contact with any chemicals, being mindful of very strong perfumes, polish off afterwards when you can.
Use a gentle jewelry cloth, eyeglass cloth, or polishing cloth line that works great.
~PRODUCTION TIMES ~
Every single item we sell is handcrafted to order with care.
Please check individual items and our policies page for the most recent product updates.
These are not mass-produced designs and are rendered perfectly for each celebration or occasion. 
~SHIPPING ~
We offer the best worldwide shipping.
Please note that shipping time does not have production times. 
Please see our shop policies for complete details. So, please be aware the production time takes a couple of days, then we will try to ship expedited for you.
Once it is shipped, this is the piece we can't control, but tracking is provided, and the best delivery companies.  
~CANCELLATION POLICY ~ 
If you're not 100% satisfied with your purchase for any reason, don't hesitate to get in touch with us, and we will make it right.
Hurry! We Sell Out Frequently
Unique, one-of-a-kind gift

NOT SOLD in stores

USA: 2-8 Business Days
See what people are saying
about us
Description

Surprise someone you love with this unique and elegant jewelry item 🎁.

We say "UNIQUE" because each piece is different when you provide your photo.

This hand-crafted piece will never fade and is built to last!

Specifics

Made in Florida and Amsterdam
316 Steel or 18k Gold Finish
Adjustable Necklace Chain Measures 18"-22"
Water-Resistant

Delivery

Each piece is 100% custom hand-made to order in only 3-5 business days!

We Believe In Being 
Responsible ~ Ethical ~ Eco - Friendly

Surgical Steel, Photo Upload Heart Necklace, Valentines to Wife

The Heart Photo and Engraving Necklace is a beautiful gift for your loved one! 

BUY TODAY & GET 10% OFF! DISCOUNT CODE: 10OFF  

Melt her heart with this gorgeous Heart Photo and Engraving Necklace and this beautiful Custom Message Card!

Imagine the look of delight on your loved one's face when she sees this artistic Heart Necklace!

The Custom Message Card speaks straight to the heart.

Symbolize your bond to be worn close to the heart, presented with a custom card to express deep caring feelings of love and support.

Happy Valentines Day! 

To My Lovely Wife 
I may not be your first date, Your first kiss, or your first love. 
But I just want to be your last everything.

I love you, forever and always. 
Always wrap yourself up in this and consider it a big hug!


Love, Your Husband 

This necklace is a perfect gift addition that will fit any look or style.

We Provide Easy Secure Payment Options for Your Purchasing Needs
✅ Several secure full payment providers
✅ 4 interest-free installments with our secure service   

This one-of-a-kind Necklace and Pendant and personalized message card is an exclusive designer-made piece!

We provide a 100% Satisfaction Guarantee with these fantastic pieces. 

❤️ Gifting Ideas:

~ Valentines Day, one of a kind gift
~ No other way to say, will always be there
~ No other way to say I LOVE YOU, my Valentine
~ A gorgeous and unique, long-lasting keepsake 
~ A special gift for that extraordinary person

~ PENDANT NECKLACE ~

Melt her heart with this Heart necklace gift! 

The Heart Photo and Engraving Necklaces represent an unbreakable bond between two souls.

This beautifully styled heart pendant is crafted from surgical steel and finished with your beautiful photo upload and engraving option on the back.

Add the perfect photo of your loved ones, friends, or even pets - to create a truly unique piece of jewelry!

If the custom engraving option is available, engrave onto the back of the pendant your loved one's name, a special date, or anything else you want to remember and keep you close to their heart.

The heart pendant is 24mm x 24mm
Luxury necklace 18" to 22" in length 45-56cm) adjustable

This necklace is one of our best sellers!   

~CARE ITEMS~
✅ Gift Wrap Kit
✅ Polishing Cloth
✅ Love Knot Earrings
✅ Package Protection (Guarantee No Loss Shipping)
✅ 2 Year Protection Plan    

❤️ How to order:
A: Select:  Your (optional) but highly recommended care items
(CARE ITEMS add fantastic value to your gift)
B: Add to Cart
C: Proceed to Checkout

***Please, we enjoy sharing your feedback with our team, as it lifts their spirits to do even more great work.  

❤️ Product Features:
✅ Personalized and Shipped from the U.S.A.
✅ Heart pendant is 24mm x 24mm
✅ Luxury necklace 18" to 22" in length (45-56cm) adjustable
✅ .316 surgical steel

✅ Shatterproof liquid glass coating
✅ Upgrade to our 18k yellow gold finish option
✅ Durable custom lobster clasp
✅ Patent-Pending Jewelry Design
✅ 60-Day Money-back Guarantee 

Each personalized piece offers exceptional craftsmanship. 

~INSIDE STORE ~

https://kubby-co-worldwide.com   💕  

~ CARE INSTRUCTIONS ~
To keep your lovely jewelry in perfect condition, we always advise keeping items out of contact with any chemicals, being mindful of very strong perfumes, polish off afterwards when you can.
Use a gentle jewelry cloth, eyeglass cloth, or polishing cloth line that works great.

~PRODUCTION TIMES ~
Every single item we sell is handcrafted to order with care.
Please check individual items and our policies page for the most recent product updates.
These are not mass-produced designs and are rendered perfectly for each celebration or occasion. 

~SHIPPING ~
We offer the best worldwide shipping.
Please note that shipping time does not have production times. 
Please see our shop policies for complete details. So, please be aware the production time takes a couple of days, then we will try to ship expedited for you.
Once it is shipped, this is the piece we can't control, but tracking is provided, and the best delivery companies.  

~CANCELLATION POLICY ~ 
If you're not 100% satisfied with your purchase for any reason, don't hesitate to get in touch with us, and we will make it right.

Each item is handcrafted and assembled with love just for you and your loved one. Due to this, please allow 2 - 5 business days for your order to ship.

Once shipped, you can expect delivery within:

USA: 2 - 5 Business Days w/ Standard (1 - 3 Business Days w/ Expedited)

Canada: 5 - 10 Business Days

UK & EU: 3 - 7 Business Days

Australia & New Zealand: 8 - 20 Business Days

Rest of the World: 5 - 10 Business Days